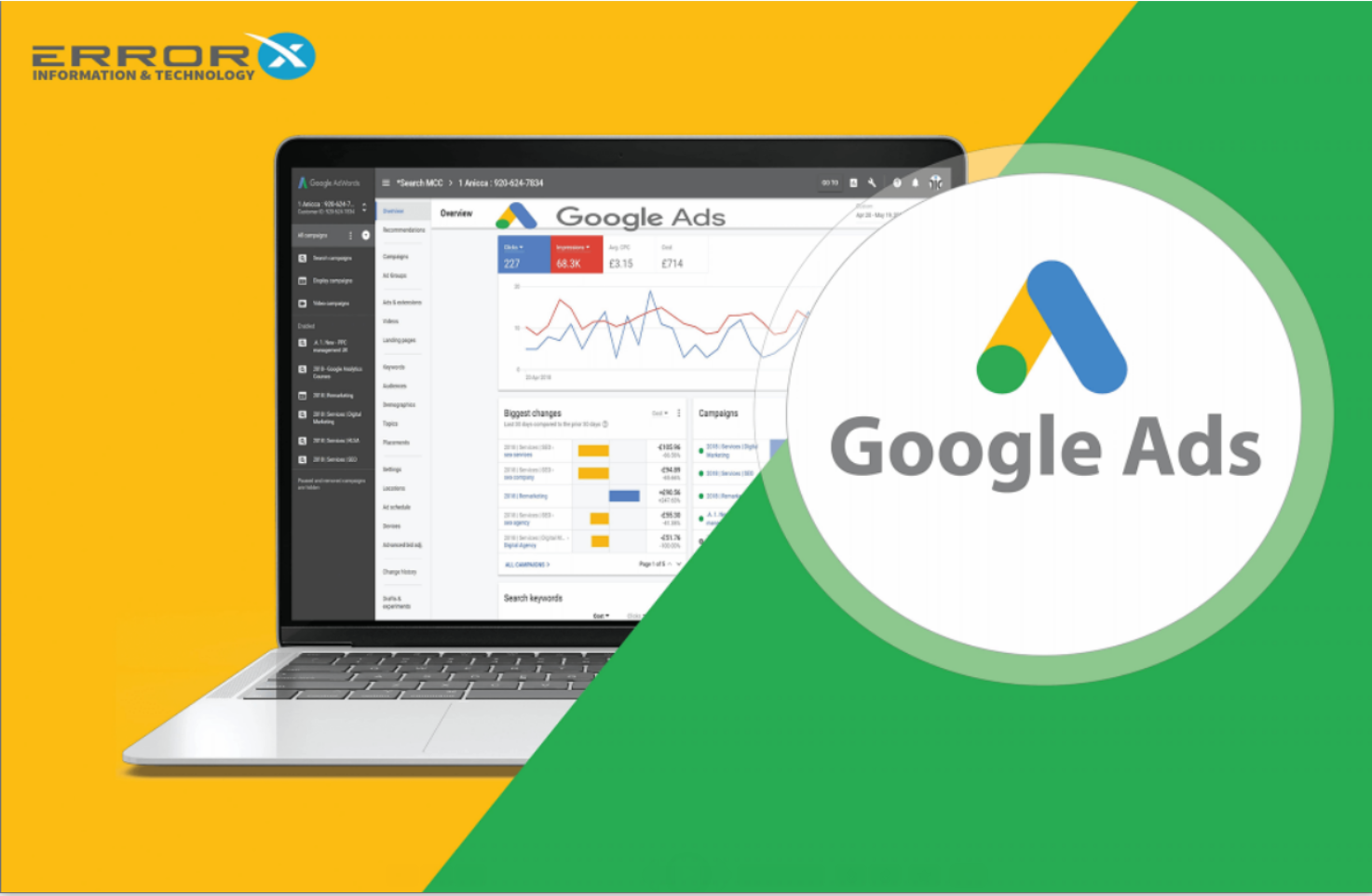 February 12, 2022

ErrorX Information & Technology

0
Google Ads Management PPC
Google Ads pay-per-click (PPC) advertising is the quickest and most cost-effective way to immediately increase revenue for your business or organization. It works by sending highly relevant potential clients and customers who are ready to pay for your services or products to your website.
Our Google Ad campaign process is conducted through an initial setup and optimization phase followed with ongoing reporting, assessment, and account management for maximum value and performance.
Our Google Ads Management Services is an affordable, no-frills service, proven to get your business results. PPC ads allow businesses and organizations of any size to obtain maximum exposure online. We have no interest in wasting money. We have no interest in wasting money.
Initial Campaign/Account Setup & Optimization
Whether you have an existing Google Ads account that needs fine-tuning, or an entirely new setup, we follow a number of best practices, including:
Keyword research – identify new opportunities for target keyterms based on search query volume, competition, budget, and desired visibility.

Develop ad Groups – create multiple ads for each ad group, including copywriting of ad titles and descriptions.

Set budget and bidding strategies.

Configure account settings for most effective ad display and efficient use of campaign budget.

Set geographic targeting for each campaign.

Develop negative keyword list to discourage unqualified leads.

Conversion tracking - setup performance goals, including form submissions and call-tracking.

Quality assurance – integrate Google Analytics, test conversion goals, monitor average positions and ensure that all keyphrases and ad copy is approved by Google.

Review landing pages and provide conversion optimization recommendations to drive leads when new visitors arrive on your pages (otherwise, what's the point, right!?).
Campaign Management - Monitoring & Reporting
Once your campaign is active, we continually monitor to ensure optimal ongoing performance:
Monitor campaign on an ongoing basis and adjust bids for optimal performance and ROI.

Evaluate performance of ads and assess conversion rates.

Allocate greater portion of budget towards ads and terms with the highest proven conversions rates over time.

Prepare monthly report summarizing campaign activity with future recommendations; this information will help to inform any subsequent performance adjustments each month.

Work with your marketing team to setup new campaigns and/or modify existing campaigns as new programs and ideas are developed.
#Weekly Google Ads Reporting
–A detailed report will be delivered weekly that highlights the performance of your campaign.
#One Monthly Campaign Strategy Call
   –A call will be scheduled with your Google Ads campaign strategist and your dedicated Google Ads specialist once a month to review reporting and go over next month's strategy.
Plan to Start a Project
Visit Our Recent Projects From Portfolio
Initial Google Ads Set-Up:
Audit and Interview
Extensive Keyword Research
Competitive Analysis
Strategies and weak points:
Ad Creation and Content
Landing Page Design and Conversion Rate Optimization
Whether you're thinking or experimenting with Google Ads for the very first time, or whether you're wondering if your existing Google Ads campaign performance could be improved with professional management, we're happy to provide guidance. Please use the form below or contact us directly for a free consult.
Plan to Start a Project
Our Experts Ready to Help You
Social Media Management Service (SMM) 2022 A dedicated social media manager is an essential part of your brand's digital marketing...